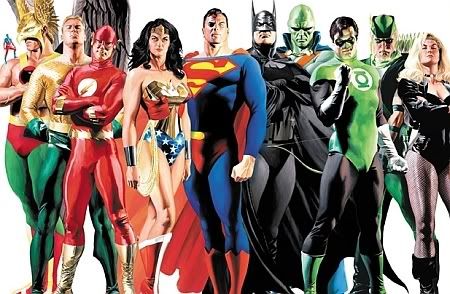 In case you haven't heard, every geek's dream in the world has come true. Yes, they're making a Justice League movie. Rumors have been circulating the internet for weeks now. Will it be live-action or motion capture? Will Christian Bale and Brandon Routh return as Batman and Superman? Will it even be made or will it meet the fate of every other awesome superhero project that Warner Bros. teases us with? Tune in next week! Same Cityzine time! Same Cityzine channel! Or just read on and find out right now.
No one is for sure (except for those making it) whether or not it will be live-action or motion capture. George Miller (Happy Feet, Babe: Pig In The City) is directing, which points a little more towards a CGI flick. It would also not make sense for the Brothers Warner to okay such a huge flick that would be treading on two of its newly relaunched franchises, Batman and Superman. Maybe if Routh and Bale were signed on to be in the movie, I would… well, first I would cream myself… then I would say it was going to be live-action. But they're not going to be in it so no creaming and no live-action Justice League movie. Oh well, I can't complain. They're making a Justice League movie. As long as it's made, no complaining. Okay?
As far as the plot goes, IESB reports the following:
"What we have seen remains faithful to the comic book that first appeared in 1960. All seven original members of the Justice League — Batman, Superman, Wonder Woman, the Flash, Green Lantern, Aquaman, and the Martian Manhunter — are featured in an origins story about the superhero conglomerate. The plot revolves around villainous businessman Maxwell Lord and involves cyborgs called OMACs (One-Man Army Corps), who can take over humans and turn them into killing machines. There are epic battles between Superman and Batman, as well as Superman and Wonder Woman."
Nice. Justice League is set to go into production February 11th, 2008. Other comic movies going into production pre-strike are Wolverine (Nov. 7th), Magneto (Jan. 1st), G.I. Joe (Feb 8th), and Dragon Ball Z (Fall '08).
Some quick updates:
Steven Spielberg and Peter Jackson are each directing a film in the trilogy of films they are adapting based on Tintin, the popular graphic novels by Belgian artist Herge.
Since no one is getting off their ass to get Jurassic Park IV made, Universal has gone forward with their plans to adapt Land of the Lost starring Will Ferrell and directed by Brad Silberling (Lemony Snicket's…)
The new JJ Abrams Star Trek may have found its Captain Kirk. Chris Pike is said to be in talks to take on the role Shat made famous. Spock has been cast, with Sylar from Heroes taking on the ears.
According to AICN, Terry Gilliam is in preproduction with his new film, The Imaginarium of Dr. Parnassus. In it will be Heath Ledger, Christopher Plummer and Tom Waits. That should be interesting.